Third summer update: still loving the pool, and gearing up for a third summer! This was such a great purchase. There is nothing reddit.com/r/pools hasn't been able to answer for me. You do not have to know or buy everything all at once! Learn, and add on as you go. See bottom of post for my season 3 upgrades.
Yesterday I set up an Intex 12ft above ground frame pool solo. Over the past couple months of trying to research it, I had such a hard time finding any kind of info in layman's terms, so I thought I'd make a blog post to help you figure out:
- How to buy one while they are sold out everywhere
- What you will need to prep and set up
- What chemicals and accessories you will need for an Intex above ground frame pool (or Bestway, or Summer Waves.)
I've heard these are sold out everywhere, but there were tons new in box on eBay, and of course, they all dropped $100 after I bought mine. I don't have much patience for auctions anymore, so I sorted by Buy It Now + Accepts Offers and made offers until someone accepted. I wanted 12ft since 6-8 people relax in it at a time. The 10ft frame pool kits with filter were significantly cheaper. 2022 update: They're $216 on Amazon right now, even cheaper than when I bought.
I bought in July, because in Georgia, you'll get at least two more months of summer heat. That was enough for me to justify the cost.
My pool cost what I would have spent had three friends with summer birthdays wanted to have a fine dining dinner + drinks out at a few bars or, way less than what I spend each year on a beach trip where 15+ people split one beach house for one week, carpool, and mostly cook at home. That was enough for me to justify my Covid quarantine pool, but I acknowledge what a luxury all of this is.
What you will need to do to prep:
It's important to level the area where you will set it up, or you could risk the water putting too much pressure on one area and bursting. I chose a place that looked level to the eye, and a friend spent a weekend packing the soil, leveling with a 2x4 turned on a radius, and hand picking out any rocks and twigs.

I did not require actual professional grading, but it was important to make sure the area is level. (2022 update: especially glad we took the time here, since this pool is going on it's third summer.)
What else will I want to buy?
- I bought two tarps significantly larger than the pool, 16x20. One to have a larger area to keep feet clean, one to cover the pool when not in use to keep bugs out and save water + conserve heat by preventing evaporation.

Update: maybe just cover at night. It's 4PM here and the pool feels like a hot tub after being covered.
I bought one heavy duty 12x12 tarp for under. Heavy duty tarps are $$$ so I went bare minimum size for that one.

I'm 5'4 and have no problem stepping into the 30" tall pool, but you may want a ladder.

My pool came with a filter pump. I probably could have saved some money by separately eBaying filter + pool, but I couldn't find much info online and was worried about compatibility. Go ahead and get extra filter cartridges on eBay.
Huge bag of baking soda ($8), for bringing the water back to the right levels after a rain. Optional: get some pH down in case you overdue it.
Clorox pool care starter kit for small pools. I was afraid to buy too much of any one chemical for a small, temporary pool, so this was the best choice for me while I get the hang of how to do the chemicals and test the water. I have since bought more test strips, and these small bottles of algae guard and clarifier, which I may not have needed if I realized from the start that you need to add a bit of pool shock weekly. Check out the chemicals guide linked at the bottom of this post! This may seem daunting, but I took a few min to set up recurring alarms on my phone of when to add what, and now it's easy peasy.
Landscape staples for securing tarp
Pavers for under the feet. More surface area = less sinking. I had pressure treated wood scraps and used those instead.

Outdoor extension cord for the pump.
Floating chlorine dispenser (some are really cute, like rubber duckies or flamingos)
I chose to buy 6ft x 16ft bamboo fencing for $25 and 6 stakes for it to create a little privacy pop-up on one side. I'd also like some 30" reed fencing to wrap the pool and make it look nicer.

Free shipping from Home Depot on $45 or more.

Backup filter cartridge, in case your filter arrives empty. You'll need more eventually, but you can also hose them down real good for longer life.



Had a bunch of questions about why I didn't just go with the hero of quarantine summer, the Pinterest lauded stock tank pool.
- Cheaper (based on a figure from some very handy DIY friends who recently make one)
- Simpler (almost everything I needed was right in the box)
- I like the option to take this down at the end of the summer.
- Larger (I think. I haven't seen 12ft tanks.)
- No worrying about creating watertight seals and pairing pump + filter properly.
Also these tanks seem to be sold out everywhere, so I worry about folks who actually need them for livestock.

This just seemed so much easier for a newbie like me, and lower commitment as a first time pool owner.
- Spread out your large tarp. Spread your small tarp on top of that (my pool did not come with a ground cover cloth.)

Use landscape staples hammered into the ground to secure both.
- I set this up solo, and it was totally do-able alone as a first-timer. I spent 4 hours hands-on and much of that was trying to understand the instructions, not counting filling time. Would have been way faster with a helper.
- I laughed when the instructions suggested baby powdering the beams to make them slide, but I wish I had done this. I ended up trying to use baking soda instead. Why not get a nice one, so you can use the extra for summer sweat, like this talc-free Burt's Bees baby powder?
How to make it look better:
See above for a reed fencing example, I think a person could even repurpose 30" busted bamboo blinds for the same effect.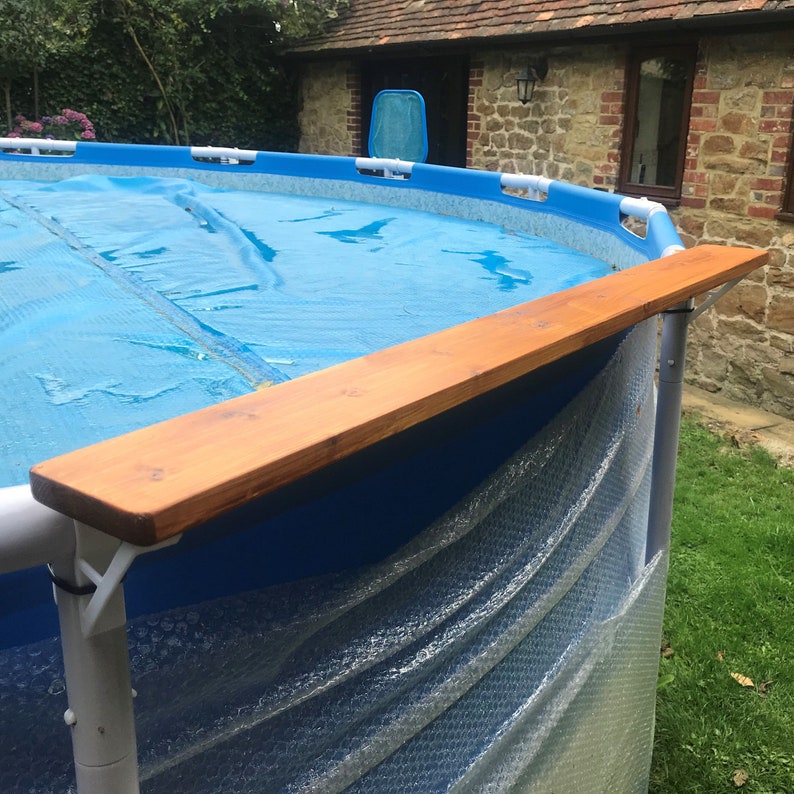 Setting calendar reminders on my phone made chemical upkeep a breeze.
I upgraded to a sand filter this year with a timer, so I won't have to turn it off+on each day, or buy filters again. The old included filter pump was "good enough" but we use the pool so much and entertain often, so it's worth it!
INTEX Krystal Clear 1200 gph Sand Filter Pump 26643EG:
If you continue using included filter pump, a waterproof outdoor timer plug is $15 or less and will pay for itself by making sure you don't leave the pump going unnecessarily.
On occasion when I've needed to remove water from the pool, or from the cover, a $30 submersible pump has been so handy. It also allows me to drain to different areas of my yard and avoid over-saturating, vs draining from the side of the pool.
Eventually I got a little vacuum + skimmer set, which was handy and but not totally necessary. I've also brushed the lining with an old synthetic broom 🤷. This year I'm trying an $18 wall mount skimmer, since I have some overhanging trees.
Winterizing: I decided to leave mine up all year. It didn't seem worth the effort to take it down every year, and I worried that it could be more wear and tear than it was worth. One year I covered it. One year I was lazy and left it uncovered, then drained+cleaned before reopening (I don't condone, but it wasn't the end of the world.)
Expect upkeep. It's a pool! But don't be intimidated.